the theme is the icing on the cake
Throughout my childhood, my mom was an events coordinator. And for many years, I would accompany her at work. I'd hear her clients talk about their upcoming weddings. They'd share memories of how they met their sweethearts, and how they plan to incorporate aspects of their story into their big day. Every little detail, the cake, the color scheme, decorations, and invitations were indicative of their specific romance. Whether is was bold or subtle, every party had a theme.

It was from that notion that my theme-driven parties were born. People seem to equate themed parties with kids, but that's not true. Everyone likes an escape, everyone likes to have fun. By paying attention to detail and narrative, I try to immerse my guests in a new world, if only for a few hours. With seventeen themed events under my belt, I am to make each occasion a memorable, unique, and interactive experience.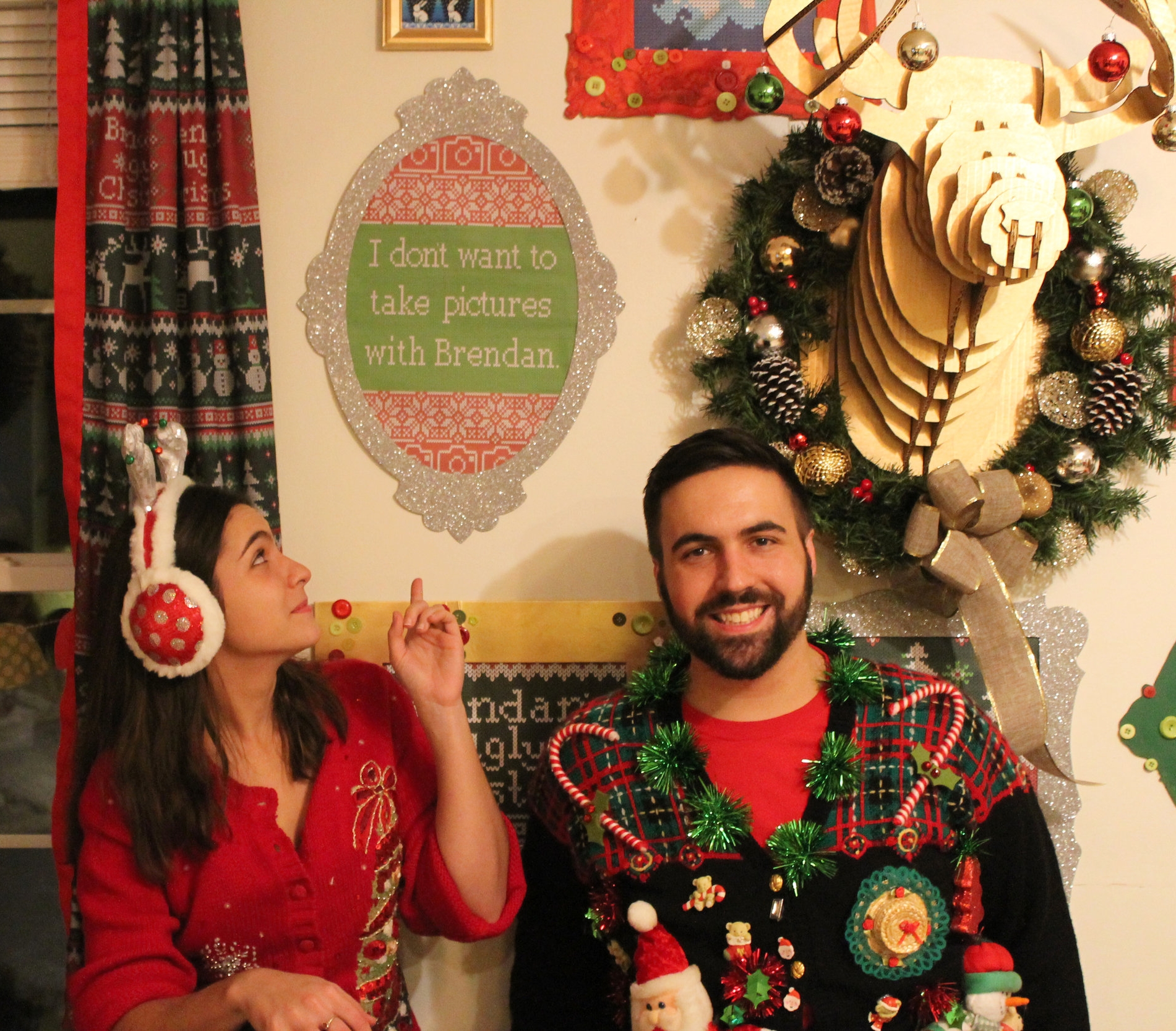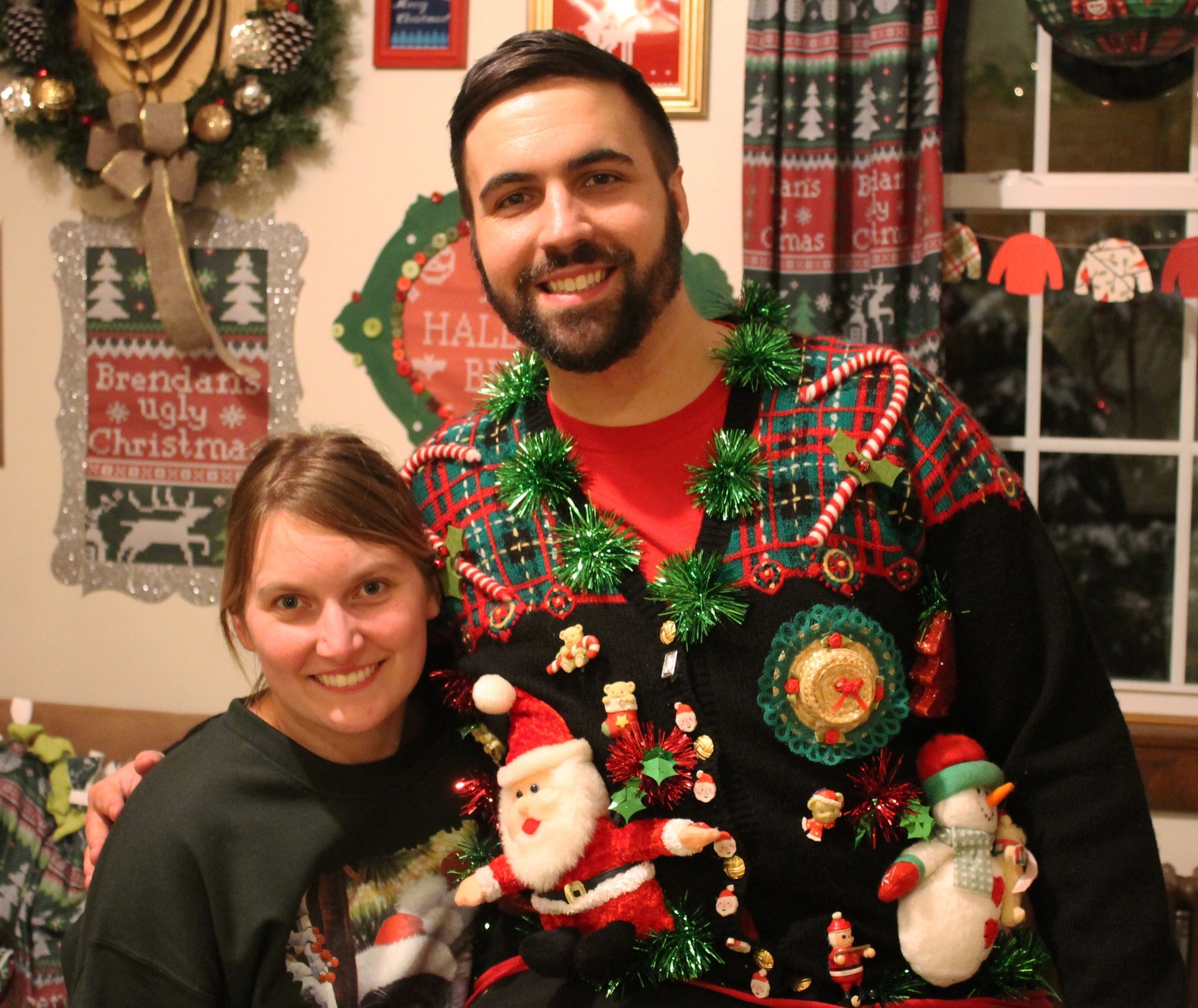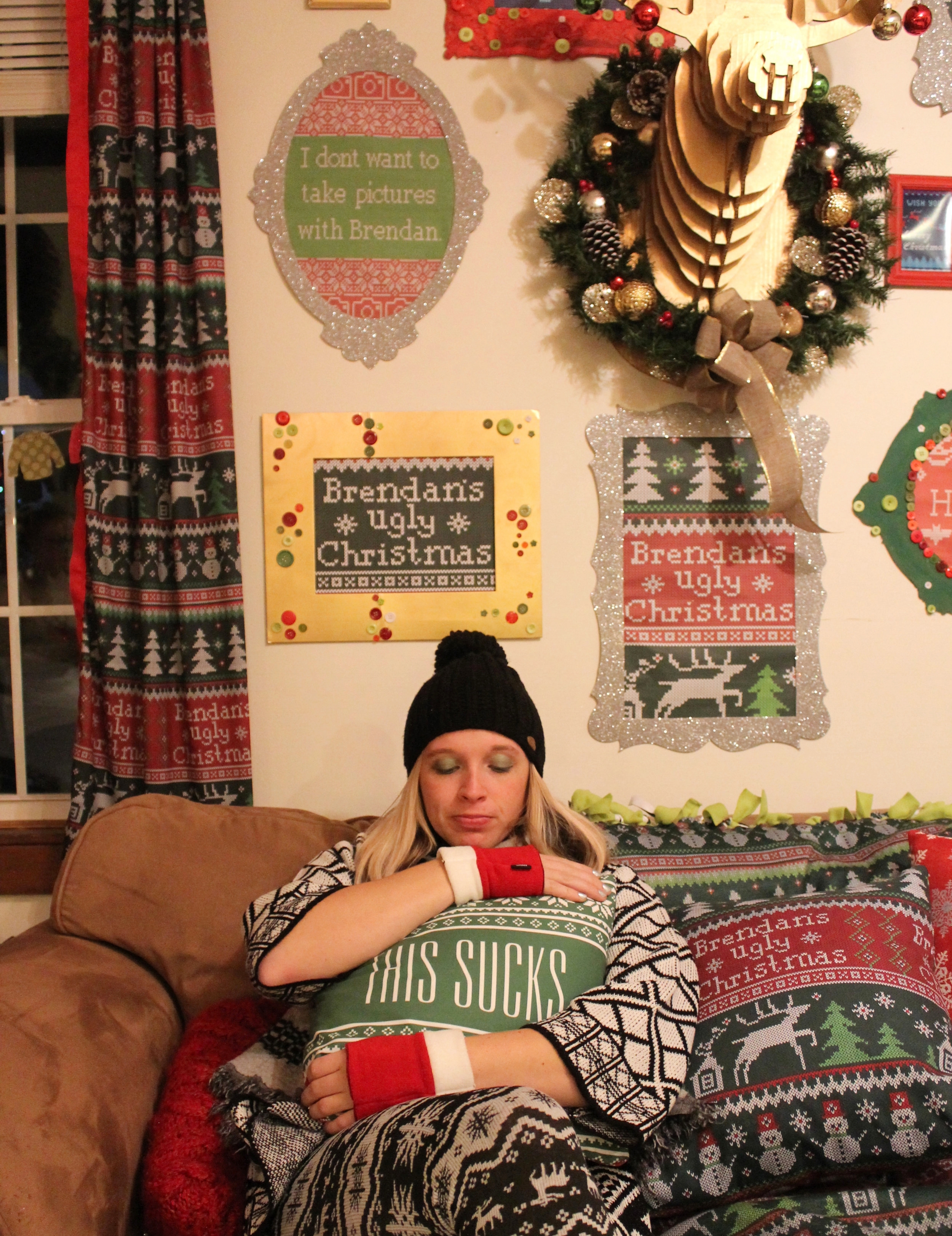 Brendan's UGLY Christmas (2016)
Christmas can be ugly. Black Friday lines, lackluster Yankee swaps, hugging relatives you pretend to remember, eating food you pretend to enjoy and banging your head off the wall as everyone partakes in singing the same festive tune in unison. This Christmas, wear your ugly on the outside, embrace those puke-tastic patterns with red and green pom-poms. Guests were encouraged to wear their favorite hideous holiday sweaters to this super sarcastic holiday hangout.
Get Your Greek ON (2016)
Great Hera! Mere mortals were invited to spend one night on Mount Olympus and experience existence among the Greek gods. By donning a toga or mythical costume, attendees participated an Ancient Grecian get-together, complete with columns, clouds, and a severed Medusa head made entirely out of fruit. Our resident human statue accompanied guests all night in taking selfies using the party's custom Snapchat filter.
Sleigh: Christmas Mourning (2015)
"Sleigh: Christmas Mourning" was a live, original horror/holiday murder mystery that debuted December 19th, 2015. Written and directed by Brendan McWhirk, this untraditionally festive, interactive experience invited attendees to be trapped inside of a two hour Christmas-themed scary movie, where they're the star. Guests were invited to dress in all black, and attend to the fictional setting of The Winterwood funeral parlor, where they mourned the loss of famous Santa Claus impersonator Kristopher Clausen, who was slain by a man in a twisted elf mask.
Through watching the show unfold, interacting with the suspects, visiting clue stations and inspecting a conspiracy board, guests were then asked to fill out a ballot with their "killer guess" entailing who they thought the identity of the murderer was and why. Once the ballots were submitted, the final act was shown as a mini-film (pre-recorded weeks ahead of the play) via DVD. When the guilty party was at last revealed, the attendee who solved the mystery most correctly was deemed the winner.
Inspired by the Scream franchise, Sleigh: Christmas Mourning plays with classic horror tropes/cliches, serving as the ultimate homage to the late Wes Craven. By introducing "The Rules of a Christmas Movie" the iconic tale of Sidney Prescott is re-imagined in this comical Christmas bloodbath that kept party-goers on their toes until the very last twist.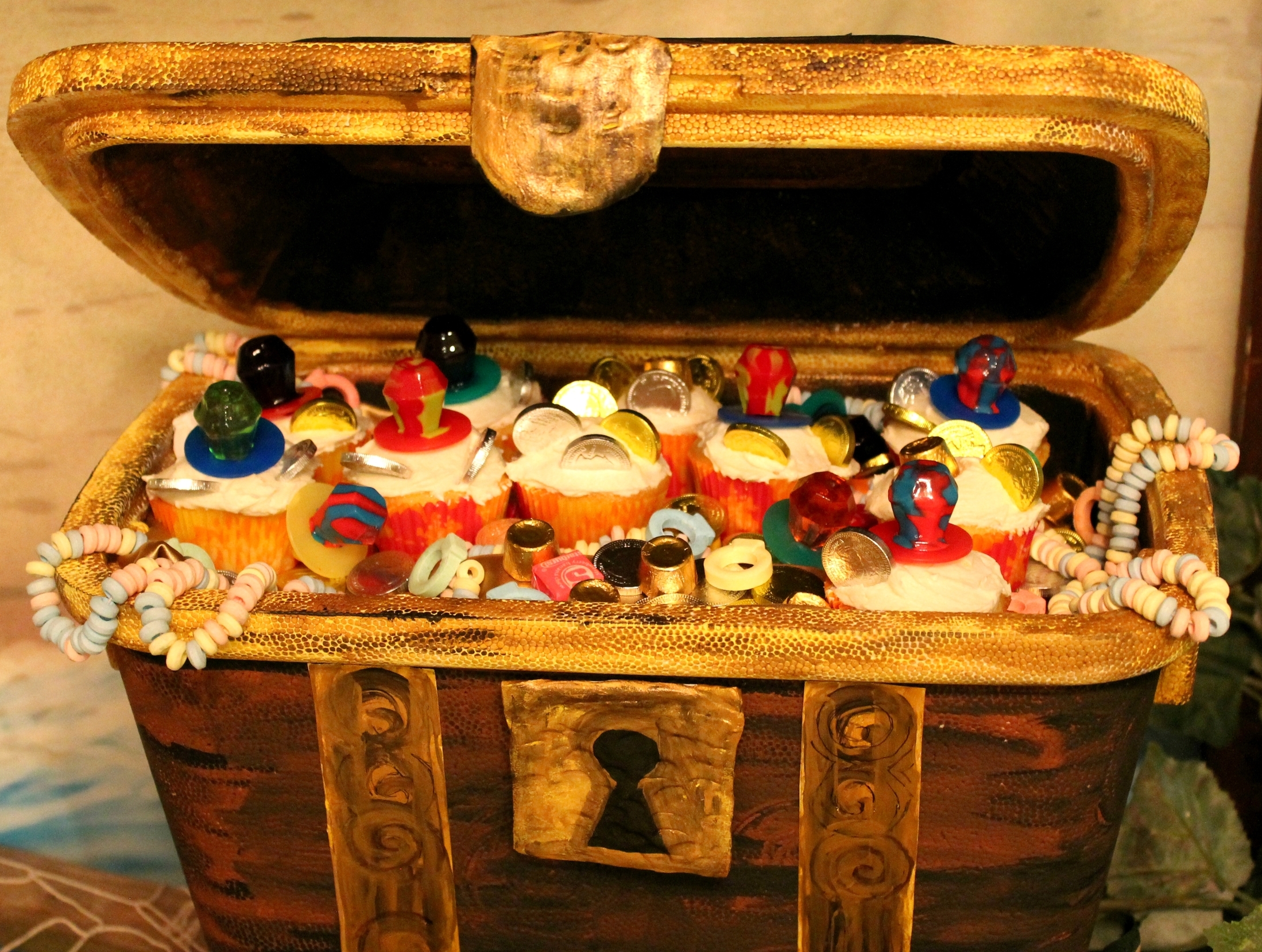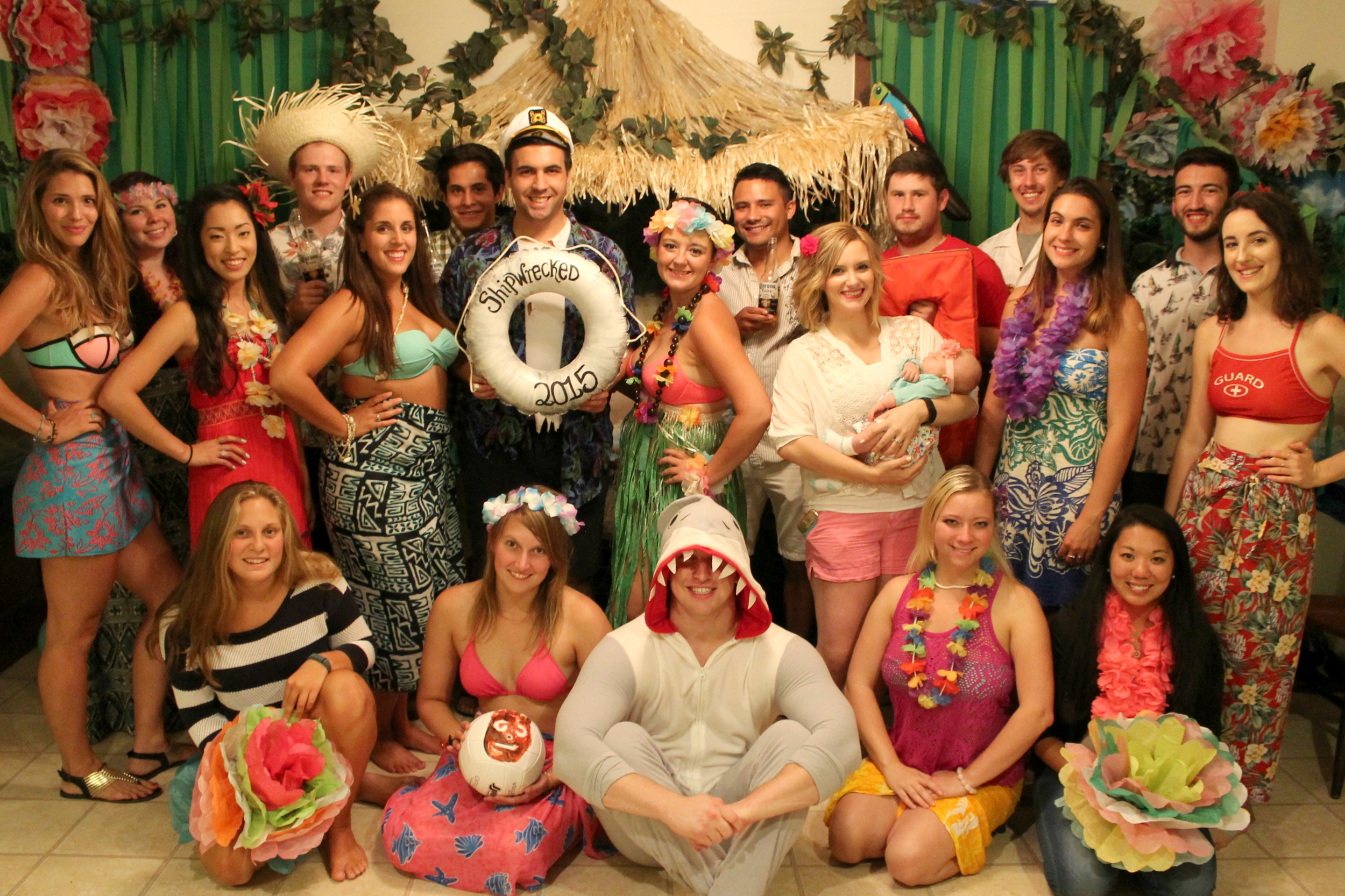 brendan's 25th: a shipwrecked shindig (2015)
Ahoy! The story began via invitation; guests were given boarding passes and asked aboard an ocean liner (the S.S. McWhirk) for my 25th birthday. Unfortunately, the party took a turn for the worse, and my invitees ended up shipwrecked on a paradise island, guarded by tiki gods. Guests were encouraged to explore the Gilligan's Island-esque surroundings, play an original strategy game, and take photos underneath the "selfie tiki hut".
T'was the Night Before Christmas Pajama Party (2014)
Inspired by Clement Clark Moore's poem "A Visit from St. Nicholas", this pajama themed Christmas party was the ultimate homage to Christmas Eve. The dining room table was transformed into a bed, equipped with milk and cookies for St. Nick himself. Not a creature was stirring, not even a mouse (seen sleeping on the center of the headboard). Visions of sugarplums danced in a fiber-optic dream cloud, and guests were invited to stay the night, if they pleased.
Brendan's 24th: blacklight banger (2014)
A psychedelic journey into a world of trippy visuals and glowing nightlife, this party was based off the intent to create a highly visual spectacle. Over 72 hours were spent making cut paper murals which morphed the walls of my home into the depths of Wonderland or the Voodoo swamps of New Orleans.
Frozefest (2013)
Legend told of an icy spell, prophesied to be cast upon my home by the Snow Queen. Only the warmth of my loved ones could melt away the brisk enchantment. Guests were invited to fulfill their role in the story, by attending in hopes of breaking the curse. Frozefest was my take on a more "non-traditional" Christmas party, with subzero overtones. No red or green attire was allowed; instead I encouraged people to wear blue, silver and white. We even crowned a brand new Snow Queen, as voted upon by the attendees.
BRENDAN'S 23RD: AN ALL-AMERICAN TRASH BASH (2013)
Folks came from far and near to the biggest trash-bash jamboree around this here USA. Guests had two main requirements - sport red, white, and blue, and come ready for a good ol' time. This party was all about celebrating the love of our great nation, so whether you were dressed as an outlandish hillbilly, or a poised Miss America, you were A-OK in our book, I reckon'.
The SILVER & GOLDen goodbye: NEW YEAR'S (2013)
Growing up, New Year's was always a time of reflection, celebration, and togetherness in my household. After six New Year's gatherings, the Silver and Golden Goodbye was my grand finale party. Guests came dressed in the traditional celebratory colors as we rang in 2013, and held a fundraiser for the families affected by the Sandy Hook shootings.
Brendan's 22nd: The Go Green Gala (2012)
"Saving the environment starts with us." That was the message behind my eco-friendly inspired gala. Guests were encouraged to wear a creative green getup, or come ready to compete for the title of "Ultimate Trashonista" by constructing an outfit made solely of found and recycled materials. Proceeds raised from this event went directly to the Go Green foundation, for a better and greener tomorrow.
GET HAMME(RED): A Non-traditional 21sT BIRTHDAY Benefit (2011)
Get Hamme(RED) was born from a joke - what do people do on their 21st birthday? Drink. Unless you're me, who doesn't drink (it's never been my thing). Instead, I asked my guests to come dressed in all red, and use the money they'd normally spend on buying me my "first legal drink" to help fight AIDS in Africa via the (RED) foundation. Together, we raised a few hundred dollars and more importantly, we raised awareness.